Announced to the plastics industry for the first time in the run-up to K2019, a COMPEO 88 compounder from BUSS is now already in industrial use. The first user, a multinational masterbatch manufacturer, has been producing color masterbatches with this system since late October 2019. BUSS's technical center had previously optimized the screw configuration for this specific application – a service that is available to any customers with individual applications – so commissioning took just one week.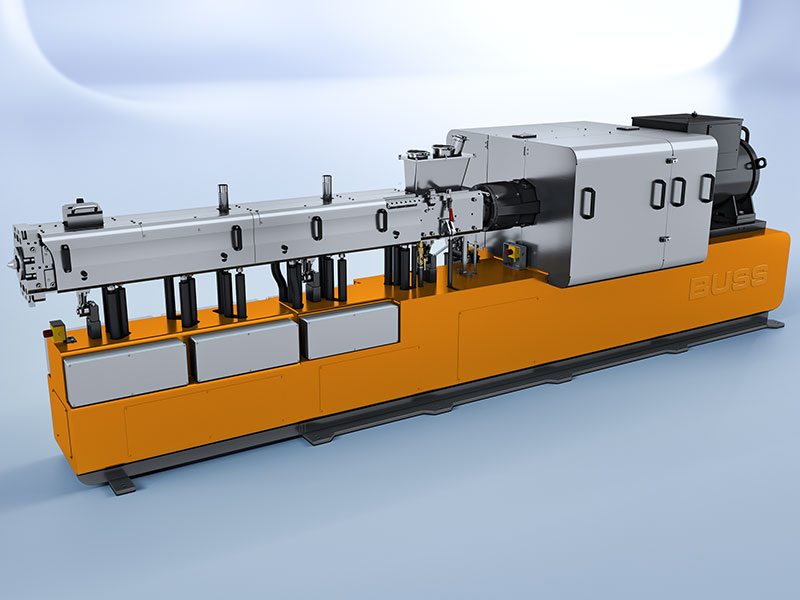 Selecting the right COMPEO compounding system
The user had selected the COMPEO 88 following several extensive series of tests on different compounding systems. One major factor in deciding for COMPEO was the particularly efficient dispersion of the high contents of liquid components and color pigment typical of masterbatches. The liquid additives can not only be fed in together with the premix in free fall via the large-area inlet, but can also be injected directly into the melt via injection pins. Another decisive factor was the uniform shear in the process section, which prevents temperature peaks and thus enables precise temperature control just above the gelling temperature of the sensitive carrier material.
The gentle yet emphatic pressure build-up in the conical twin-screw discharge unit also makes a significant contribution to achieving the stated goal of high process consistency and thus uniformly high product quality up to formulation change. Due to the large number of small lots with a wide variety of formulations and colors that are typical of masterbatch production, such changes may occur very frequently. As a result, the modularity, accessibility, and ease of cleaning of the COMPEO 88 were further major factors in the purchase decision.
The way to success: communication and close cooperation
Dr. Philip Nising, CEO of the Buss Group, said:  "Our customer contacted us in 2017 with a demanding compounding task. Working together openly and determinedly quickly led to our finding a solution that both sides found convincing and exciting. The COMPEO system proved to be the ideal basis for the combination of gentle dispersion and gentle pressure build-up in a flexible continuous process."
François Loviat, Head of Process at BUSS, added, "By using the COMPEO 88, this manufacturer is following a growing industry trend of switching from traditional discontinuous batch processes to modern, continuous production. The optimal controllability of continuous production leads to uniform results and increases time and cost efficiencies. Our COMPEO compounding systems, which have been tried and tested under harsh everyday production conditions, are designed to make this a smooth and seamless transition, as this present example shows. The customer's project manager is also thrilled about not only the machine's mixing properties and performance, but also the simple, intuitive operation of the COMPEO."