BUSS Kneader series KX
The most efficient mixing technology for anode paste
For more than 60 years the Buss Kneader series KE and CP have been the benchmark for cost-effective compounding of anode paste. We continue the tradition with genuine KX technology. Safe. Efficient. Proven.
In 2012, ten years after the successful introduction of 4-flighted screw technology in plastics compounding – thereby doubling output rates and setting new benchmarks in terms of mixing efficiency – Buss AG undertook to adapt and enhance the proven solver-based math model-ling tools for anode paste mixing.
The resulting 4-flighted KX geometry has the fol-lowing main advantages over traditional 3-flighted technology:
Up to 50% more throughput for
the same machine size
More intense mixing thanks to 33%additional shear surface
Improved microdispersion due to 45%higher flow separation rate
Bigger volumetric capacity
Process Aspects
The KX process zone is divided into four sections, each with a specific purpose and screw geometry:
Intake section: The intake section takes up the incoming coke and transports it into the process zone by feeding elements with continuous flights.
Transition section: In the transition section, liquid pitch is directly injected into the feedstock via drilled kneading bolts. At the end of this section, the screw profile changes from transport to mixing and kneading.
Kneading section: In the kneading and mixing section, the focus is on optimum mixing. Innumerable flow separations and reorientations with uniform shear rates ensure maximum homogeneity.
Dynamic throttling: Dynamic throttling is an innovative feature that replaces the flap-die used previously. Screw flights with reduced feeding effect slow down the mass flow to increase the filling degree in the kneading section, resulting in optimized mixing.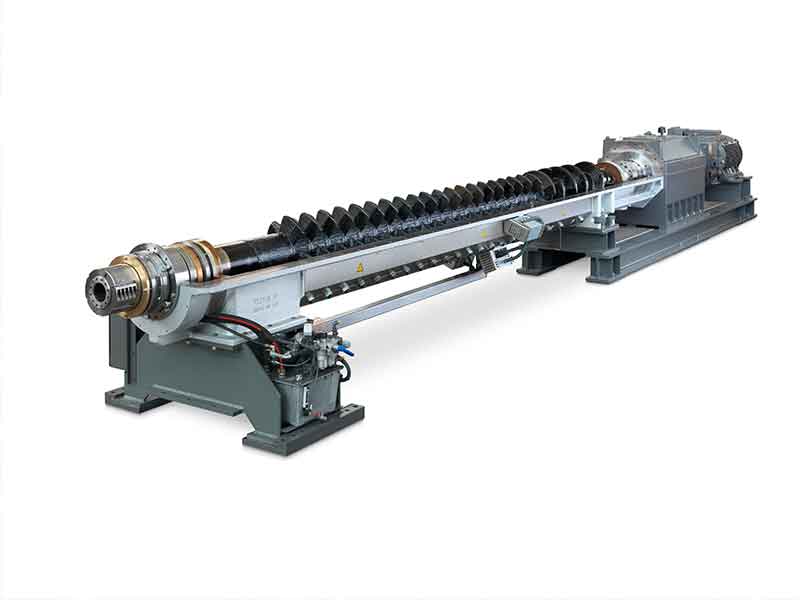 Features & Benefits
Improved anode quality thanks to 4-flight mixing technology and dynamic throttling

Higher specific output per machine size

Less maintenance cost due to shorter process zone and dynamic throttling

Less investment, installation and maintenance cost through electrical heating and omission of hydraulic closing system

Improved safety and user-friendliness through electrical heating

Optimal mixing and pitch dispersion through injection of liquid pitch, preventing accretion and lumping at the same time

No volatile emissions due to liquid pitch injection

Improved accessibility through omission of external screw shaft bearing

Shorter downtimes and improved service-ability

Reduced space requirement due to shorter and more compact machine design

Improved price/performance ratio in terms of investment, operating and maintenance costs
Typical Application
Anode paste is critically important for the industrial production of aluminium (aluminum).
Technical Data & Application
BUSS Kneader Series KX

Aluminium Journal: Four-Flight Technology greatly enhances throughput and quality

Aluminium Times: KX Kneader series launch