BUSS Kneader series LR
BUSS Kneader technology for the food industry
The first Buss Kneader for food processing was delivered in 1948 to a chocolate manufacturer. Gentle working, efficient self-cleaning and easy accessibility to the process zone, typical of these machines, have always been indispensable requirements in this field.
Today, Buss Kneaders are used in the food industry for compounding chocolate and croquant doughs, producing sugar comprimates and soft candies, as well as for the preparation of chewing gum base, chewing gum and bubble gum. Buss LR Kneaders for the food industry have a larger free volume (Do / Di = 1.81) than those used in the plastics industry, a smaller diameter/stroke ratio (Do / H = 4.0), and a lower shear rate.
Operating principle
The unique operating principle of the Buss LR Kneader ensures gentle yet homogeneous processing. In addition, the efficient macro- and micro-mixing results in a narrow residence time distribution and excellent self-cleaning. Consequently, Buss LR Kneaders are first choice for shear-sensitive products such as
Pastries, cakes and biscuits
Breakfast cereals
Snack pellets
Chocolate doughs
Sugar comprimates
Soft candies
Chewing gum, bubble gum and gum base
Processing
The LR Kneader's gentle, yet homogeneous processing is most impressive during the continuous drawing of soft candy mass. Sugar dough fed at about 90°C is cooled down to about 40°C and crystallized in the Kneader, which thus serves as a heat exchanger for dissipating the crystallization heat as well. Constant orientation in the shear zone of the Kneader ensures an extremely fine and uniform crystal structure for optimal candy mass texture and associated chewing enjoyment.
Buss LR Kneader sizes range from screw diameters of 100 to 400 mm for throughputs of 200 to 7000 kg/h.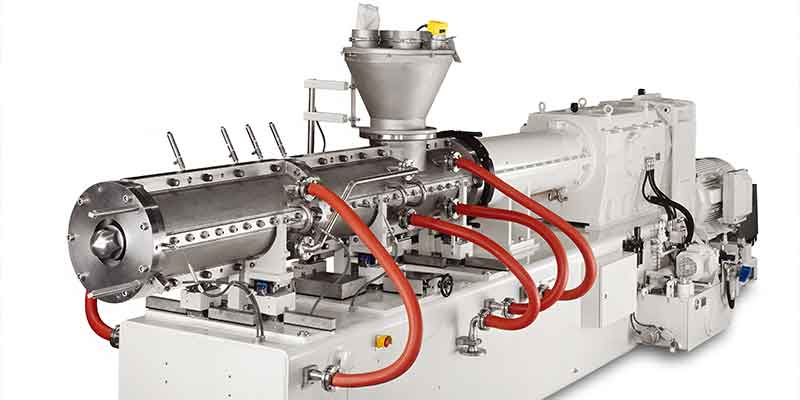 Technical Data & Application
Continuous processing of chewing gum by BUSS Kneader

BUSS Kneader Technology for the Food Industry