Owing to the current situation, production facilities around the globe are at a standstill. However, little by little, operations will be resumed and we will gradually return to a normal situation.
Checklist for resuming production
When placing your BUSS system into service again after a standstill, special attention should be paid to the following steps – in addition to a preliminary inspection according to the operating instructions:
Check the "emergency stop" and "safety switch" features.
Check whether the wear of the process parts is still within tolerance values.
Check the colour and oil level of the gearbox lubricating oil.
Check filters and hose connections of the oil or water circuits of the temperature control units and connections to the Co-Kneader.
Perform a tightness test on the shaft seal.
Check upstream and downstream silos and all conveying lines for residues and clean them if necessary.
Check the oil seals of the gearbox for leaks.
Once the process parts of the machine have been brought to operating temperature, the temperature should be maintained for a while to ensure that any material residues in the process chamber are melted.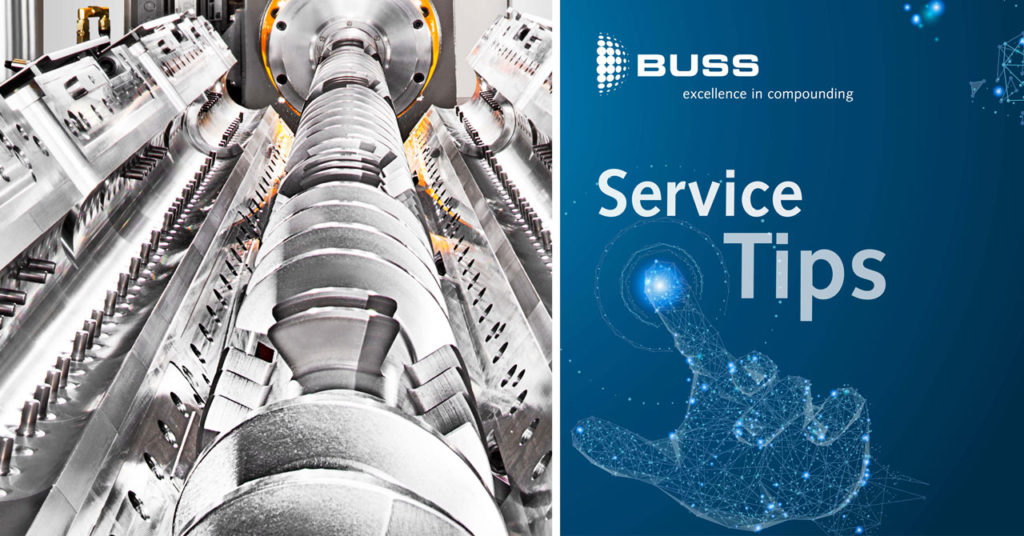 Are sufficient spare parts available?
The effects of the current pandemic are being felt globally, particularly in logistics and customs clearance, which can lead to long delivery times. We therefore recommend that you review your need for spare parts and order spare parts as early as possible. BUSS AG is at your side as a strong partner during this challenging time.
Please contact our BUSS Service Team for more information and a personal quotation. We will be happy to advise you!
Virtual support from our service team
We, too, are doing our part to contain the infection through avoiding face-to-face contact. Nevertheless, the specialists of our service team are on duty for you. We enable you to use our video-supported
Inspections
Repairs
Troubleshooting (processes, mechanics, controls and control systems)
Contact us now – we are here for you.