Is a plant inspection scheduled in the near future? Or does an inspection seem appropriate right now due to lower machine utilization or standstill? Use the time now for an inspection, in case not all machines are running at full capacity. By taking measures at the right time, production capability can be guaranteed and plant availability increased, in order to ensure that the re-start of capacity can be successful. The specialists of the BUSS service team are there for you as well via video transmission and provide support for inspection and repair.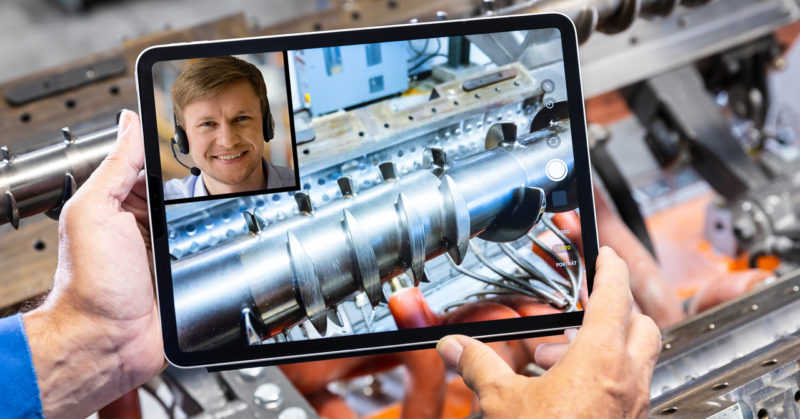 The specialists of the BUSS service team are available to support our customers via video transmission.
Virtual Trouble Shooting
We also provide remote support in the detection of errors in process, mechanics or control systems. Together with our specialists, we get to the bottom of the problem. Flexible, innovative and safe solutions are developed in close cooperation. In order to implement the defined measures successfully and in a targeted manner, our engineers can be reached via video link and will guide step by step through the problem-solving process.
In emergencies, the Buss AG service team is there for our customers and also provides support on site. It goes without saying that appropriate hygienic measures must be observed to protect employees.
High stock availability
Our supply chains are intact and the wear and spare parts warehouse is full. The Buss AG Original-Spare-Parts-Service is available at all times and is ready to assist our customers with questions and order processing.
Ensure that your production gets off to a smooth start with inspection and maintenance assisted by trained BUSS personnel via video. BUSS is here to support you, now and always. You can count on BUSS.
BUSS SERVICE HOTLINE +41 61 821 00 00