On July 2, Ringier Industrial Media hosted the "2020 Rubber and Plastic Innovative Materials Application and Processing Technology Summit Forum" held in Shanghai. After winning the Ringier Technology Innovation Award in 2012 and 2019, BUSS´s new compounder generation COMPEO wins "2020 Plastics Industry – Ringier Technology Innovation Award" again. Mr. Pingping Jiang, Professor and Doctoral Supervisor of the College of Engineering, presented the prize to Mr. Rongbao Gao, General Manager of BUSS Compounding Solutions (Shanghai), emphasizing that technological innovation is the cornerstone of BUSS AG.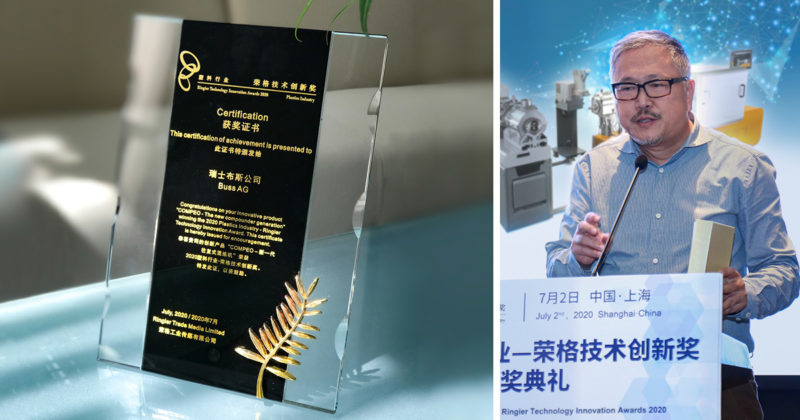 COMPEO – The New Generation of BUSS Compounders
The COMPEO series is a new generation of reciprocating compounders for a wide temperature range (up to 400° C) and an extremely wide process window. Thanks to the system's modular design and innovative process geometry, it can be used for an extremely diverse range of applications.
Ringier Technology Innovation Award – one of the most professional and influential industry awards in China
The Ringier Technology Innovation Award is organized by Ringier Industrial Media, a leading industrial information media. It has become the most professional and influential industry award in China, with its objective selection process attracting widespread attention from the industry. Every year, the award is given to the outstanding innovation pioneers in the industry in order to commend the industry's innovative products and technologies with outstanding contributions. It encourages more enterprises that have invested in technological innovation to improve productivity and economic efficiency or that provide greater convenience to users and in the best case result in green, sustainable and environmental protection.
The Ringier Technology Innovation Award is open to all enterprises, and guarantees the independence and objectivity of the expert jury during the selection process.